As someone that loves to save a buck while remaining stylish, flea markets are my heaven. So much of my lolita wardrobe is composed of vintage and second hand finds. Even my go to hyper poof petticoat was found at a local flea market. I find that most lolitas are eager to go vintage shopping, but they have idea what why to go about it. I composed a few tips and tricks on how to score at your local flea markets.
-
Keep your eyes open.
So many of my "conversation starter" items could have been easily over looked by the common flea market consumer's eye.
-
Don't set your ideals too high.
Sorry to break it to you, but you will not find an Angelic Pretty skirt in your lolita-able flea market expedition. You might not be able to find a head eatting bow that looks like it came directly from BTSSB, but you may be able to find some miner goggles from the early 20th century or a retro-tastic pillbox hat (I've found both!) to add some quirky flair to your outfits.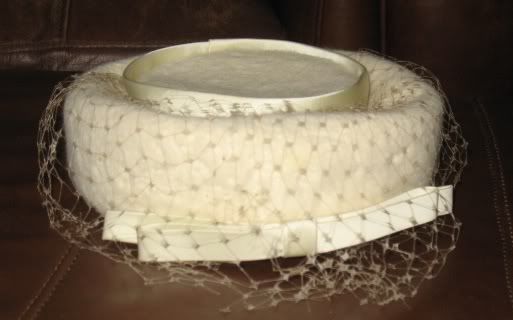 veiled pillbox hat found at a local flea market
-
Be prepared to alter and tailor.
Nine times out of ten, if you buy some sort of clothing item it at a flea market it will need to be altered in someway. Also keep in mind (especially in plus sized or over sized items) that you can also make something completely different out of the fabric. Even if it isn't a lot of fabric you would be surprised how little fabric you need to make bows or even a tote bag.
-Don't be afraid to make an offer!
Most of the times the sellers of items are just as eager to get rid of their items as you are to buy them. Sometimes even by buying one item you can get several items from the same person included (this was how I got three tiaras and Marie Antoinette wallet for less than $5).
Items that you can sometimes find at flea markets:
Classical/Steampunk-
steampunk style goggles
pocket watches
antique and cameo jewelry
handmade dollies (for brooches and other crafts)
Sweet/OTT
children's clothing (for making bows and other items)
children's toys (for deco)
children's' accessories (little clips and bows)
dainty vintage hats
Gothic/Punk
cross and rose jewelry
studded belts and accessories (use with discretion)
dark veiled hats
vintage leather apparel
Generic
petticoats (usually square dance petticoats, but you can roll up the waist band for a more cupcake shape)
vintage shoes
odd crafting supplies
I hope you enjoyed. I wish you luck on future flea market expeditions~!